The homeowner wanted to change the color of her daughters bedroom walls along with adding a very slight glitter effect. The application of glitter to paint and applying to walls can be a D-I-Y project that can be completed during a weekend. Below is the process on how to apply glitter wall paint.
1. Do the necessary wall preparation (patching, sanding (120cc) and cleaning) of small holes, nicks or cracks prior to applying the first coat of paint. This will provide a uniform finish on the walls when the project is complete.
2. After the preparation is complete apply the first coat of paint (Benjamin Moore, Ben, eggshell finish – Soft Chamois) without glitter. Cut-in around the trim, windows, frames and ceiling with a 2.5″ or 3″ nylon/polyester Wooster brush. Roll the paint with a 3/4″ 50/50 nylon/polyester lambswool Wooster nap.
3. After the walls have dried (1-2 hours) the second coat of paint can be applied with the glitter. Apply the glitter to the paint can and make sure to stir thoroughly and continue to stir throughout the application process as to not let the glitter settle to the bottom of the can. Cut-in (as described above) the walls by dipping the bush in the glitter paint and applying as you did with the first coat. You can use the same brush that was used for the application of the first coat of paint. Glitter can be purchased in small 1-2oz bags (per gallon depending of effect). Since a slight glitter effect was the desired end result we only added 1/2 bag of glitter to the paint which was approximately 1/2 gallon.
4. After the walls are cut-in the final step is to roll the walls with a new 1/2″ 50/50 nylon/polyester lambswool Wooster nap. Finally and most importantly, when applying the paint with glitter make sure to roll from floor to ceiling across the entire wall to ensure a uniform application of the glitter.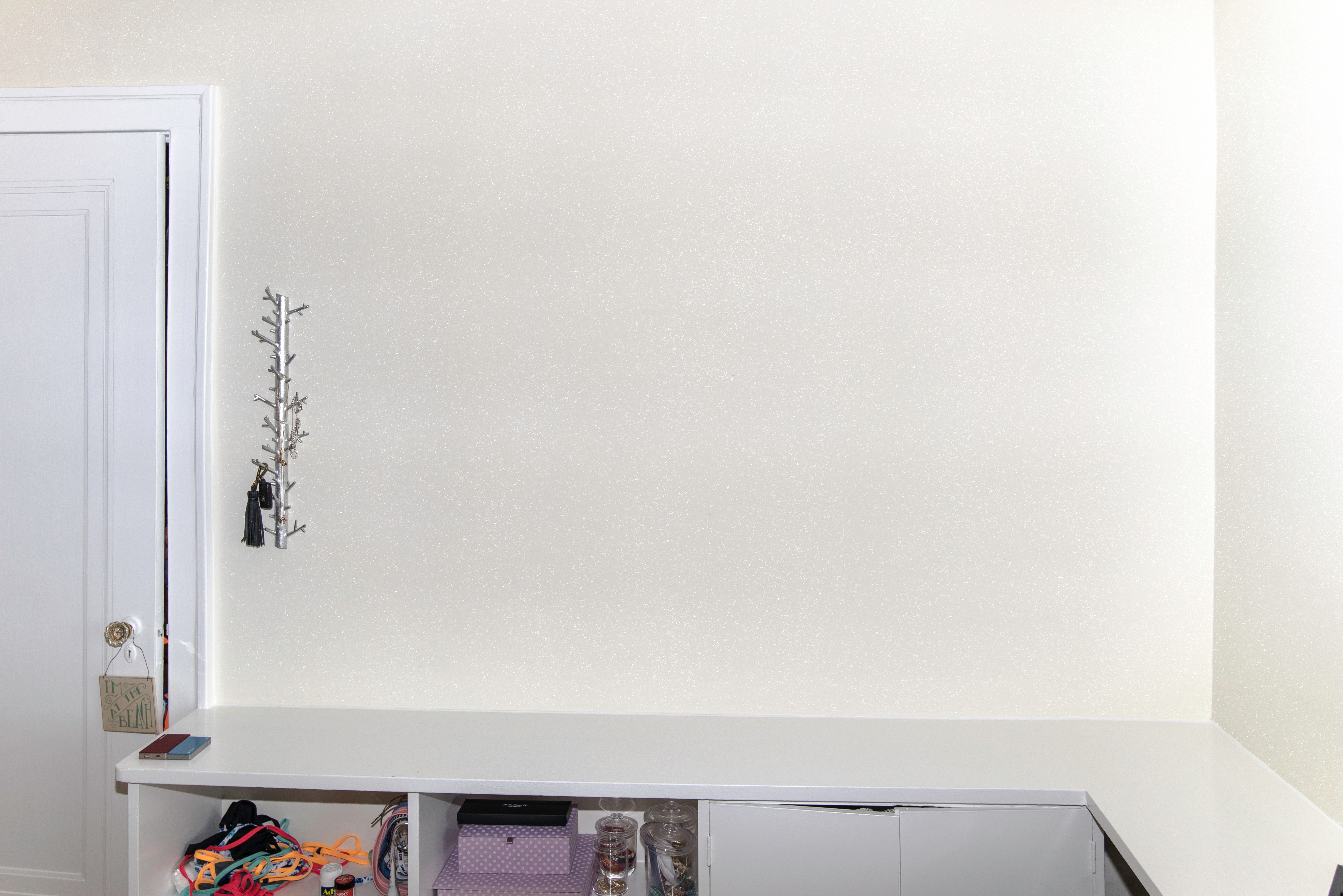 The end result looks great and the room sparkles during different times of the day depending on the lighting. Hopefully you find the process helpful and you can make it your next D-I-Y project.
Please be sure to sign up for the blog to continue to get valuable information to help you with your interior painting projects and other general painting tips.