With the holidays right around the corner I've decided to take a bit of time off and make the next four post about two exterior restoration projects and two interior painting projects we completed within the last couple of months. I know winter (I think) is right around the corner and discussing exterior projects is not on the top of your mind. But I figured why not show you what can be done to restore the exterior of a home and get you thinking about the warmer weather and spring 🙂 Below are the pictures and description of a 1920s duplex in Evanston.
BEFORE:
The right side of this home had not been painted in 20+ years and the trim, doors and windows needed a lot of restoration before the painting process could begin. The front bay windows, frames and trim along with all trim areas under the porch had the paint completely removed with heat guns and chemical remover to ready for further preparation. Since this house was built before 1978 all proper EPA Lead-Safe guidelines were followed during the restoration process.
Once the paint was removed the surfaces were power sanded with 60cc sand paper to level out all surfaces, cleaned, caulked, windows glazed and primed. The remaining trim on the entire house was scraped, power sanded with 30cc sand paper, cleaned, caulked and primed. All necessary trim surfaces were primed with Mad Dog and caulked with OSI Quad Sealant. The left side of the home had been painted within the last 5 years and did not need as much trim restoration as the right. There were many areas on both sides of the home that had rotten trim, fascia and soffit wood that was completely removed and replaced with new. The trim color is Sherwin-Williams Pure White that was colored matched in Benjamin Moore Regal Select High Build soft gloss finish.
DURING: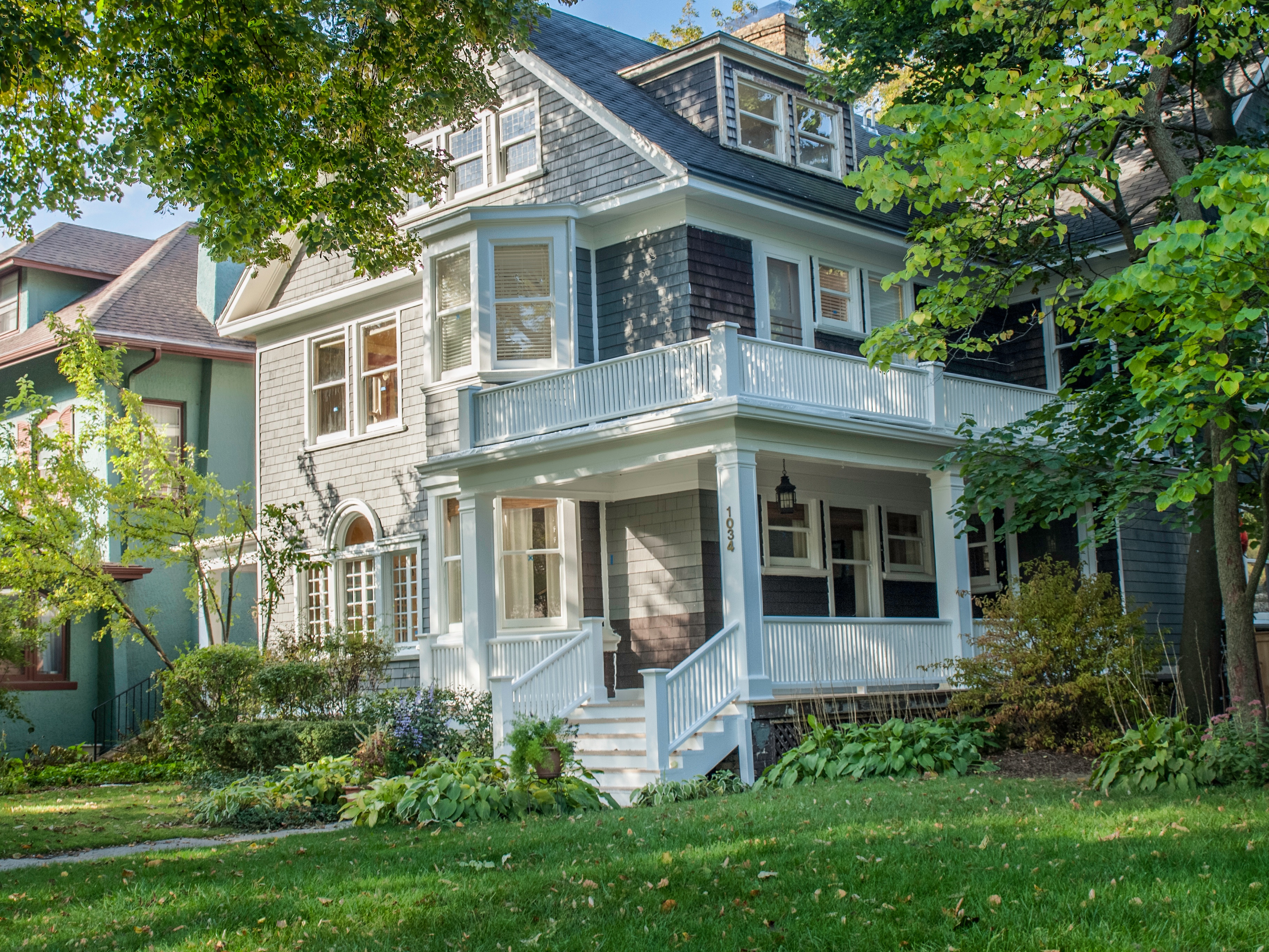 The siding of the home is cedar shingles which required less preparation than the trim. All surfaces were power sanded with 120cc sand paper and cleaned prior to staining. The home was stained in Benjamin Moore Arborcoat solid Amherst Gray.
The porch floors were scraped, power sanded with 30cc sand paper and cleaned prior to painting. The floors were primed with Mad Dog deck fix and painted with Muralo SuperTread urethane reinforced enamel. The color is Benjamin Moore Branchport Brown.
With this home being a duplex, it provided a little bit of a challenge to get both homeowners to agree and the same siding and trim colors. But we all worked togther to make the correct decion and once we did every part of the project proceed as expected. We finished on time within the 6 week time frame and both homeowners were extremely happy with the finished results.
AFTER:
Don't hesitate to email to call me with any questions if you are thinking about painting the exterior of your home in 2016. I would be happy to help.
After the exterior project blog next week I'll share some pictures and descriptions of a kitchen cabinet restoration and striping of a kids bedroom.
Please be sure to sign up for the blog to continue to get valuable information to help you with your exterior painting projects and other general painting tips.