The decision to replace or paint kitchen cabinets can be a very difficult since you don't know what the finished painted product will look like. That's why it's important to contact a professional painting contractor that specializes in cabinet painting.
The homeowner of the below kitchen planned to replace the counter tops, back splash and flooring along with updating the appliances. She remained undecided about replacing the cabinets due to cost and was unsure about painting due to the condition of the cabinets. She contacted me for an appointment to look at the cabinets so I could provide my professional recommendation if I thought the cabinets could be restored and painted to look new and save the cost of completely replacing. The cabinets were in average condition and I recommended they be painted at a significantly lower cost than replacing.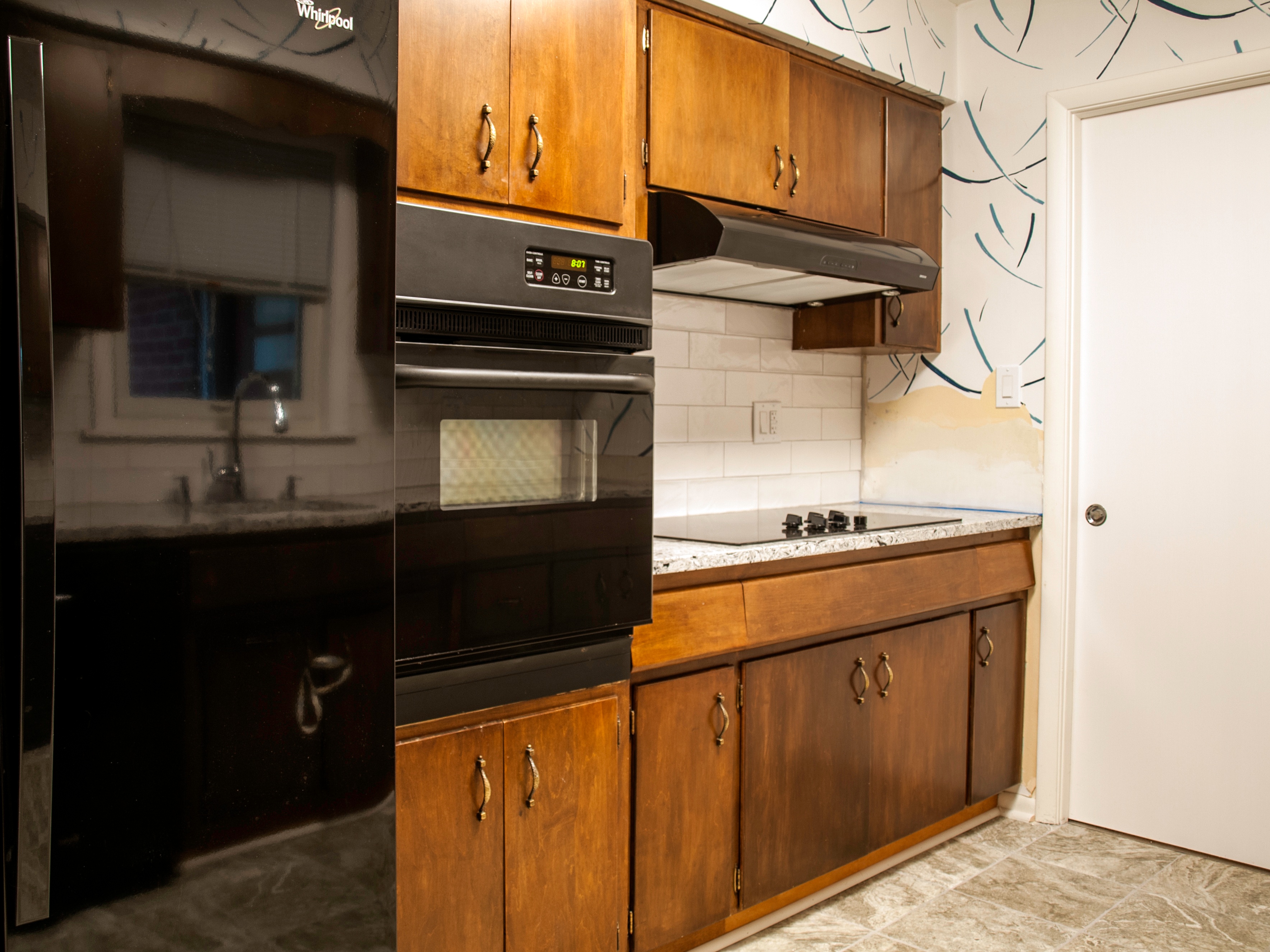 We removed all of the doors and drawers from the base of the cabinets to prep for priming and painting. All existing hardware was removed and replaced with new. All of the cabinet surfaces were sanded with 120cc sand paper to completely remove the top layer of polyurethane and stain. After that all surfaces were cleaned with wet rags (no cleaner) to prepare for priming. One coat of Fine Paints of Europe Hollandlac primer was applied to all surfaces. After the primer dried (8 hours as it's oil based) all imperfections were filled with wood filler or caulk. After both dried all surfaces were sanded and cleaned again.
Now that preparation was complete all surfaces had two coats of Fine Paints of Europe Hollandlac White Brilliant finish applied with foam rollers to provide a factory sprayed finished look. Dry time between coats is 14-16 hours as the product is an oil-based enamel. After the paint was dried the new hardware was installed and cabinets reassembled. Attention to detail is very important when using the Hollandlac product since it's an oil-based enamel and does not apply, set or dry like other oil-based products.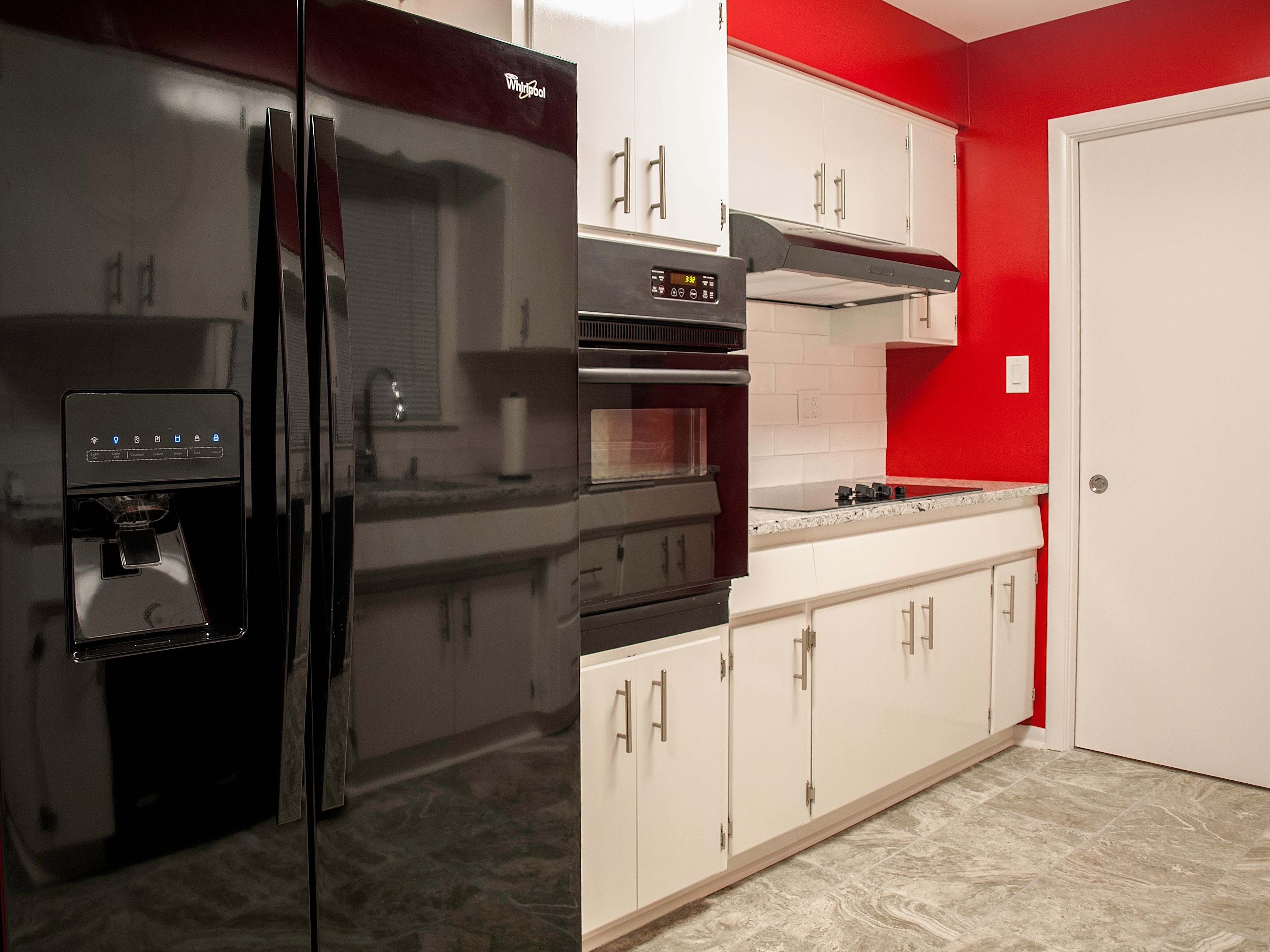 The walls has wall paper on there from the 1950s that was a bit challenging to remove. Once the wall paper and glue were removed the walls were sanded (to remove excess glue), cleaned, primed, patched, sanded again and cleaned again to ready for painting. The homeowner at first wanted to paint the walls a light gray to match the counter tops and flooring. My suggestion was to think outside the box since there was already so much gray in the space. I suggested red as I thought it would look great with white cabinets, white back splash and black appliances. She was open to red so we sampled four Benjamin Moore reds and decided on Heritage Red in the Benjamin Moore Kitchen & Bath satin finish.
The end result was she and the entire family loved the red walls and painted cabinets. She was so happy to not have to spend the additional money to completely replace the cabinets. Overall the end result looks great and the homeowner is very happy.

Don't hesitate to email to call me with any questions if you are thinking about restoring your kitchen cabinets instead of replacing in 2016. I would be happy to help. 
The next blog will be about wall striping of a kids bedroom.
Please be sure to sign up for the blog to continue to get valuable information to help you with your interior painting projects and other general painting tips.